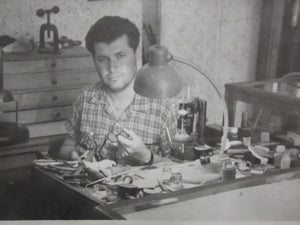 History
Ben Moses has been designing Jewelry since the 1950's. He first started as an Optometrist in his hometown of Braila, Romania, after surviving WWII. As he spent time handcrafting eyeglasses, he very soon became drawn to Fine Jewelry and enhancing people's eyesight and style simultaneously. He was the sole Jewelry Designer and Optometrist of his town in those years.
Ben brought his notable artistry to NYC, when he immigrated in the late 1960's with the desire for greater opportunities. Having very little space in his suitcase, he still managed to carry a portion of his curated Jewelry collection with him and opened shop on 47th Street.
His son Ray eventually joined him in the Diamond District, making it a duo, family affair. Ray, formerly a painter with an education in Computer Engineering, brought Custom work even more to the forefront. A third generation of Moses' (seen modeling in our banner photos) has recently joined in on the business as well, to create its new E-Commerce sector.
With generations of expertise in Diamond Grading and Antique Jewelry, as well as personal involvement with the customer at every step of the process, Ben Moses has been providing that rare, yet sought after combination of getting the best quality pieces at a fair price, while feeling like family.
Testimonials
"Ben and Ray are a perfect team who helped me to find and then create an amazing engagement ring for my future wife without any pressure.  They were courteous, professional, and quite honestly immensely charming!  They work with care and are honest dealers.  You can sincerely trust them."
"Elegant beauty and classy design."
"Special, one of a kind pieces. "
"I can't speak highly enough about Ray and Ben. They were so sweet, so patient, and took their time to make sure we were happy with what we got. Thank you!!"
"Dedication to detail and individuality."